Registrations have closed
Jazz Lawn Sessions
Sunday 26 Jun 2022 7:00pm - 9:00pm
£25 for 1 ticket or £40 for 2 tickets
Enjoy a unique evening of jazz music on the iconic main lawn of Chelsea Physic Garden. This evening will bring together jazz artists for a cool blend of music and drinks on a summer evening.
The Physic Garden Café will be serving light bites and drinks for this event.
The event starts at 7 pm, arrive from 6:30 pm
Due to our licence, you will be unable to bring in alcohol from off the premises, any alcohol that is brought into the venue will be taken off you and left at reception until you leave. Alcohol is available to purchase at our cafe. 
Tickets:
£25 for 1 ticket or £40 for 2 tickets
Performer Bios:
Lauren Rose McGee 
Lauren Rose McGee is an accomplished jazz vocalist originally hailing from Nottingham. Growing up in a musical household surrounded by an eclectic sea of sounds, Lauren's inspiration spans multiple genres. It was always jazz however, which connected with her the most. At 18 she was awarded a scholarship to train at the London College of Music where she honed her craft and developed her sound.
When not performing as a vocalist, Lauren can be found treading the boards as an actress. It's this unique capability of connecting with the narrative of each song which elevates her musical performances and sets them apart, captivating audiences and transporting them right to the heart of the music. Expect to hear classics from the Great American Songbook infused with contemporary jazz covers from the likes of Gregory Porter and Esperanza Spalding. Lauren will be accompanied by her band to bring you a rich tapestry of sounds to unwind to on a Summer's evening.
Socials: Instagram @laurenuk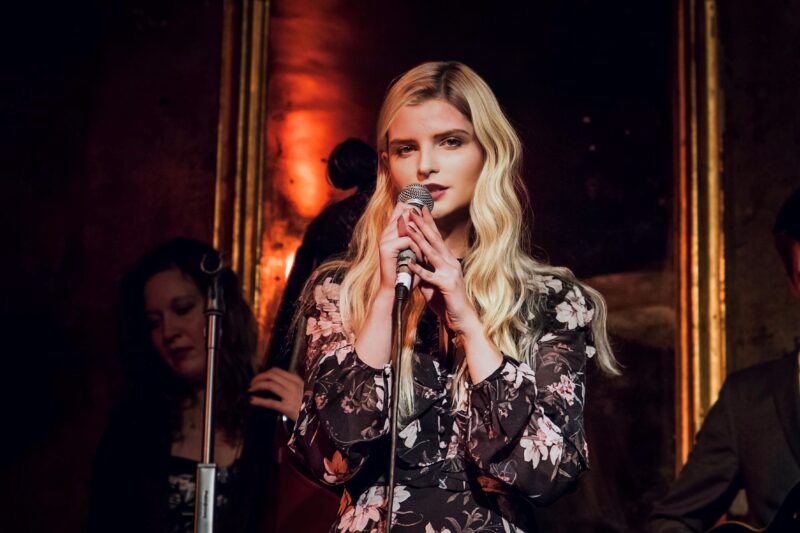 Freddie Benedict 
A rising star on the jazz scene, South London based jazz vocalist Freddie Benedict will be joined by Chris Bland to perform a blend of Freddie's original compositions, Brazilian tunes, jazz standards and some modern classics. The boys met at the Guildhall School of Music and Drama back in 2018 and have been great friends ever since.
The man can, act, skat, sing, and play the trumpet! Freddie was born from a theatrical family, joining a local church choir as a child, which sent him on his way to becoming the ambitious, and talented performer you'll see on stage. His vocal talents have seen him play at some of the most sought after concert halls, from Carnegie Hall, Glyndebourne, Ronnie Scott's, The Ritz, The Savoy and the Royal Opera House, to name but a few.
Freddie is planning to release an album of original music by the end of 2022, which will feature Chris on piano, as well as some special guests along the way. Watch this space!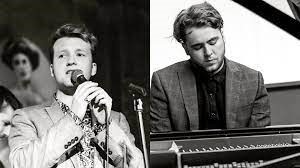 Tara Minton
Australian jazz harpist and vocalist Tara Minton met double bassist Ed Babar on stage at The Ashtead Jazz Club in July 2013. It was the beginning of a beautiful musical partnership that has developed over eight years of creating, touring and recording together. Both have enjoyed rich musical careers in the UK and abroad and have worked with some of the biggest names in the industry including Björk, Tom Walker, Kitty Daisy and Lewis, Stan Sulzmann, Geoff Gascoyne and Tony Kofi. Ed is director of The Blues And Roots Ensemble, a 9-piece jazz band and music education charity dedicated to sharing the music of Charles Mingus. Tara's own bold, artistic pursuits blossomed in 2020 with her critically acclaimed ode to Mer myth and climate change, 'Please Do Not Ignore The Mermaid' featuring Tommaso Starace on soprano saxophone.
On January 28th the pair released 'Two For The Road' on Jazzizit Records – a duo album of beautifully arranged standards from The Great American Songbook and the modern British Jazz Canon. Produced by Geoff Gascoyne, the record features guest performances from Stan Sulzmann and Lilia Iontcheva. Tara and Ed are 'hitting the road' in 2022 for a series of concerts and workshops in the UK and Europe – first stop, The East Grinstead Jazz Club!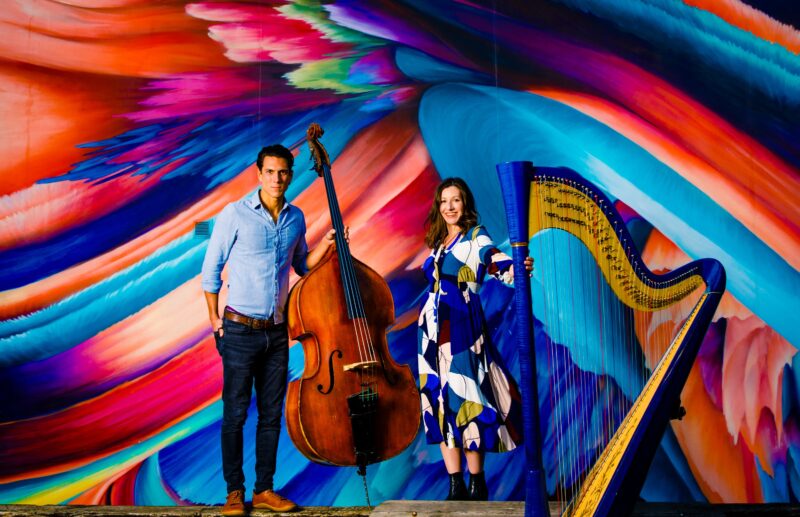 "their impressionistic takes enhance the originals" – MOJO
"There is no doubt that Minton is a gifted vocalist. Her sensual voice and expressive delivery delight and thrill" – All About Jazz
"[Minton] brings the harp centre stage" – Clive Davis, The Sunday Times 
Host of 'The Jazz Podcast' https://thejazzpodcast.buzzsprout.com/
Director at 'SpiceJazz Soho' https://spicejazzsoho.co.uk/
Professor of Jazz Harp at LPMAM https://www.lpmam.com/
Event registration closed.
Date And Time
Sunday, June 26, 2022 @ 07:00 PM
to
Sunday, June 26, 2022 @ 09:00 PM
Registration End Date
Sunday, June 26, 2022
Event Types
Event Category
Share With Friends