Chelsea Physic Garden was founded in 1673 by the Worshipful Society of Apothecaries to aid the botanical training of its members and apprentices.
Horticultural traineeships give trainees a chance to experience the various aspects of working in a small botanic garden, gaining experience in practical horticulture and the management of a unique plant collection, with scientific research and educational applications, both outdoors and under glass.
Charlotte Schwendinger left the Garden in May 2019 after completing her 12-month traineeship. Charlotte's trainee project included a self-led Edible Seed Tour of the Garden, which can be downloaded here.
We sat down with Charlotte before she left to chat about her time in the Garden:
Can you describe the day-to-day role of a horticultural trainee?
It's pretty varied. We start work at 8am and for the first couple of hours, every gardener – including the trainees – has a glasshouse to look after. We then have two hours under glass, where we look after our plant collections.
Recently, I've been looking after the Cool Fernery and the Conservatory, which have many different types of plants – carnivorous, cacti and ferns adapted for a diverse range of environments.
Before that, I was looking after our Pelargonium collection, which is an historic collection. Chelsea Physic Garden has had a Pelargonium collection for around 250 years. It was a privilege to go in every morning and learn about them.
Is the Pelargonium house heated?
It has some heat. Most of the glasshouses do – apart from the cool fernery, of course – but we don't have an automated system, so temperatures are controlled by venting, or increasing humidity by damping down the floors with water. Everything's done manually.
So, that's the morning?
That's just the first two hours! We have a break, and then there's two more sessions during the day. As to what tasks we have, it's really dependent on what needs doing in the Garden. They can range from working with a team to prepare an area for a new season, or turning compost, or weeding, pruning, etc.
In the morning, we have a schedule for what the daily plan is, but the work can be hampered by the weather or the demands of the season.
We're just coming into the new season. What were your duties last week?
We were compost turning. There was a delivery of top dressing, because we have just had our lawns prepared for the new season. There was bed clearing in preparation for some new planting. And some pruning.
How long have you been here?
I started volunteering in the Garden in September 2017, but before that I was on a course here with the English Gardening School. Whenever I was finished for the day, I would go off and spend a good hour looking around the Garden or the glasshouses, seeing things change through the seasons.
I only got into horticulture recently – hence being a trainee – so I wanted to get a bit more involved. I applied to volunteer, was volunteering here for a while, and then when the traineeship opportunity came up, I knew that was definitely what I wanted to do.
I came to horticulture with the idea that I wanted to be a garden designer, but then realised – as I started working – that I really wanted to work with plants and understand the conditions that help them grow.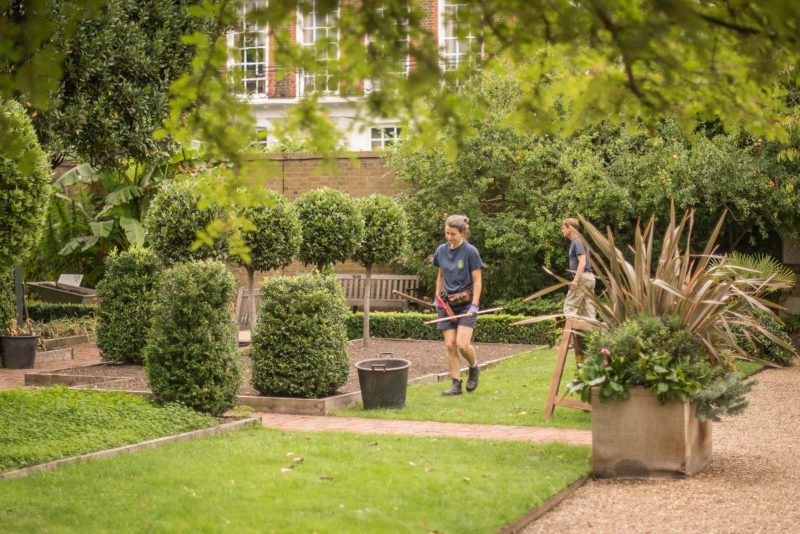 What did you do before you came to the Garden?
In my previous life, I went to art school and worked in the Serpentine Gallery after graduation. They had a really nice little book shop, and I'd worked in book shops when I was studying.
I then worked with a Cologne-based art publisher and bookseller, moved over there for a little while, and helped them set up a few specialist art book shops in London.
After that, I founded a bookshop for the Architectural Association, and really enjoyed working to build up an interesting and stimulating range of books – developing it and presenting things for people to engage with and enjoy.
After seven years of running the bookshop, I felt that I'd done everything I could with it and wanted to do something different, but I wasn't sure what. I researched some landscape architecture courses, and then found myself looking into horticulture.
I definitely think it was the right decision. It's a whole new world, and I'm finding my direction, but I'm also keeping an open mind as to which way it's going to go, because it's such a rich learning environment.
What's your favourite place in the Garden?
That's a tricky one…
It's supposed to be!
Every time I'm in a different part of the Garden, I think "Oh, this is my favourite place!" In the mornings, when I'm working in the cool fernery, looking up close and seeing how things change every day, that's my favourite place at that point in time, but it depends on the time of day and the seasons.
I guess one place I was drawn to initially was the pond rockery area at the heart of the Garden. Its history, the types of plants that can grow there, and its position in the Garden all make it a bit special, and it's somewhere I don't work very often, so I like taking time out there.
My favourite place used to be the World Woodland Garden, maybe because it's quieter and peaceful. Also, I was looking for tips for my own garden, which is quite shady.
Then there's the Swan Walk area, where we have really good examples of mature plants which are surprising to find growing outside in the UK.
I could probably keep going through the whole Garden…
How about your favourite plant in the Garden?
One plant that I have been looking at since I got here, which is in a glasshouse I don't usually work in, is the Trochetiopsis ebenus. It's either extinct or massively endangered in the wild.
I've seen it not looking so good, and then getting really healthy and putting on loads of new leaves, then seeing it flowering. During my time as a trainee, I've regularly kept an eye on this plant, which we're helping to conserve for future generations.
Symbolically, at least, I guess that's my favourite plant.
Can you give us more detail about the plant?
It's in the Malvaceae family and was found on the island of St. Helena, and it's endangered because of grazing by goats. It has a beautiful white flower with little pink stripes on the back, and when the leaves emerge, there's a little semi-circle of glaucous-silver colour that opens up to a more glossy leaf.
Working in a botanical garden has been great for learning about endangered species, thinking about ecologies and the importance of conservation and preservation.
What other plants have you been checking up on?
Mmm…there are so many! There is an Epiphyllum in the conservatory that was flowering one day. I got worried the next day, when the flower had disappeared, but then looked it up and found out that they do flower very fleetingly. I'm always keeping my eye out to look for these fleeting moments.
It sounds like you were lucky to see it. What's the most important thing you've learned at the Garden?
To be flexible. That's something I knew I would need to be, but putting it into practice is another thing. For example, it was an extremely-hot summer last year, and we had to respond quickly to the weather conditions.
Similarly, there could be a delivery of mulch or something that needs to be put onto the Garden quickly. You have plans, but sometimes you have to drop everything.
What's your least favourite job in the Garden?
Apart from cleaning up the signs after the birds, which I've only had to do once, it's probably the scratch weeding between the paving, although I haven't done that for a while.
There's something about the sound and sensation of using metal brushes, and scratching in between the bricks. I don't like doing it, but then when you look back and see the job when it's done, you forget the unpleasantness.
What are your gardening specialities?
Good question. I'm still developing my skills, I enjoy most of the tasks I do, and I'm not sure what I want to specialise in yet.
I've seen you refer to the cool fernery as "my" fernery on Instagram. What can you tell us about looking after it?
The watering is the most important thing in the fernery. The collections includes plants from many different areas and altitudes. Some of the ferns don't want too much water, and you have to observe them to make sure they're getting the right amounts. The tree ferns like a good douse on their trunk and on their leaves.
You also have to give the plants the right amount of space, so they have to be moved from time to time, when they're getting too big.
Watering is a mystery to me. I just hope for the best.
Yes. Gauging the needs of different plants takes experience.
What other gardening do you do?
We have a decent-sized garden at home. We have a mature cedar in the back, a beech and a eucalyptus, so there are a few fairly-large trees providing plenty of shade.
Having a garden has been great for moving into horticulture and trying things out, whether that's hard pruning a Forsythia for regeneration or trying out different planting combinations and ideas. We also have a lawn that doesn't like existing under the shade of a tree, so I've had to think about alternatives.
It sounds like a little laboratory.
It is a bit like that. On the side of the house, I've put up a little corrugated plastic roof, so I could have a propagation area and get things growing. I've got quite a lot of plants in pots, probably too many, but it's okay while I'm learning.
It has been great for observing which plants need full sun and which don't, but I haven't really had a lot of time to spend in my garden during the traineeship. As well as working in the Garden, we write a daily diary and we have a project to complete, as well as plant identification every week.
Your traineeship at the Garden is almost over. Do you know what's next?
I have got something lined up. While I was volunteering here, I was also volunteering down the Thames at Inner Temple Garden. I really enjoyed working with that team and in another garden of historical importance.
During the summer, I'll be joining that team.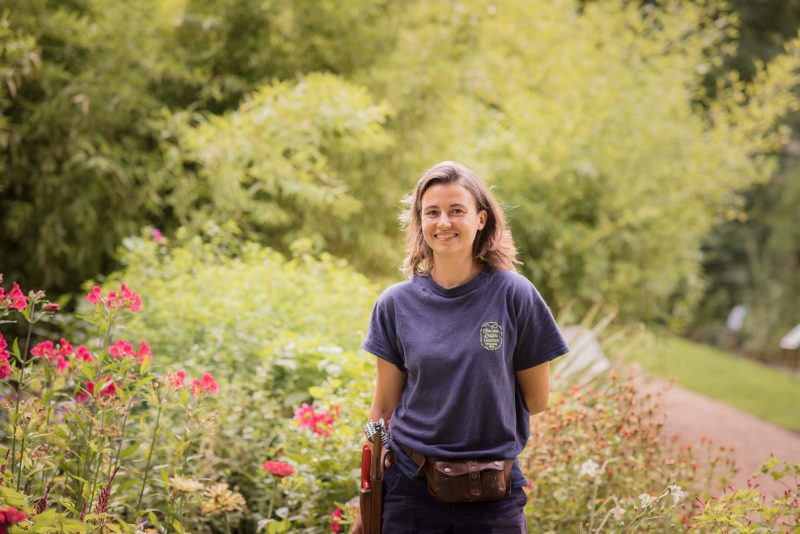 Our 2020/21 Horticultural Trainee has been supported by:
The Stanley Smith (UK) Horticultural Trust
The Finnis Scott Foundation
The Barbara Whatmore Charitable Trust
The Eranda Foundation
The Stanley Smith (UK) Horticultural Trust
The Finnis Scott Foundation
The Barbara Whatmore Charitable Trust
The Eranda Foundation